Ninja Slayer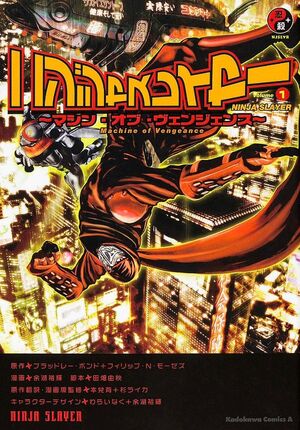 Information
Title:
ニンジャスレイヤー
Author:
Yuki Yugo (Art)
Yoshiaki Tabata (Script)
Original Run:
June 27, 2013 – December 8, 2017
Published by:
Comp Ace (Kadokawa Shoten)
Volumes:
14
Genre:
Action / Adventure / Fantasy / Sci-Fi / Shonen
Ninja Slayer (ニンジャスレイヤー, Ninja Sureiyā) is a Japanese manga series based on Ninja Slayer novel's and illustrated by Yuki Yugo (余湖 裕輝, Yugo Yūki) and scripted by Yoshiaki Tabata (田畑由秋, Tabata Yoshiaki). Vertical Comics have licensed the manga for North American release and have been releasing them since October 20, 2015. The series has been published digitally in English by KADOKAWA Book Walker since May 13, 2015. Both licencors have seemingly dropped the series, as new volumes haven't come out in years.
It concluded December 8th, 2017 at 14 volumes and was continued by a new manga titled Ninja Slayer: Kyoto, Hell, On, Earth.
Ninja... Ninja were... merciless demi-gods, ruling Japan with their karate in the age of ninja tranquility. But some committed a forbidden form of hara-kiri storing their souls at Kinkaku Temple for future resurrection. Their lost history was falsified and concealed and the truth about these ninja was long forgotten.
Now, in the future where the universalization of cynbernetic technology and electronic networks are God, suddenly, sinister ninja souls, resurrected from thousands of years past are unleashed on the dark shadows of Neo-Saitama. Fujikido Kenji, is a salaryman whose wife and child were killed in a ninja turf war. In a brush with his own death, Fujikido is possessed by an enigmatic ninja soul. Fujikido cheats death and becomes Ninja Slayer. A Grim Reaper destined to kill evil ninja, committed to a personal war of vengeance.
Set in the dystopian underworld of Neo-Saitama, Ninja Slayer takes on Soukai Syndicate ninjas in mortal combat.
Manga Guide
Edit
#
Release date
Volume
1
December 10, 2013 (JP)
May 13, 2015 (Book Walker)

October 20, 2015 (Vertical) (US)

1: Machine of Vengeance
List of Chapters:

2
May 9, 2014 (JP)
September 16, 2015 (Book Walker)

December 15, 2015 (Vertical) (US)

2: Last Girl Standing (Ichi)
List of Chapters:

3
November 7, 2014 (JP)
September 30, 2015 (Book Walker)

February 23, 2016 (Vertical) (US)

3: Last Girl Standing 2 (Ni)
List of Chapters:

4
April 10, 2015 (JP)
December 9, 2015 (Book Walker)

April 19, 2016 (Vertical) (US)

4: Atrocity in Neo-Saitama City
List of Chapters:

5
July 8, 2015 (JP)
January 6, 2016 (Book Walker)

June 21, 2016 (Vertical) (US)

5: One Minute Before the Tanuki
List of Chapters:

6
December 6, 2015 (JP)
March 30, 2016 (Book Walker)

October 8, 2016 (Vertical) (US)

6: Three Dirty Ninja-Bond
List of Chapters:

7
April 7, 2016 (JP)
January 10, 2017 (US)
7: Menace of Darkninja
List of Chapters:

8
July 7, 2016 (JP)
8: Marry Christmas Neo-Saitama
List of Chapters:

9
July 7, 2016 (JP)
9: Geisha, Karate, Shinkansen and hell
List of Chapters: