Part 1: Neo-Saitama in Flames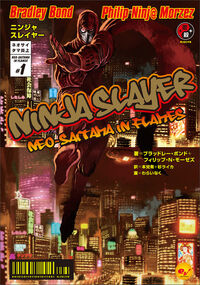 Information
Title:
第1部「ネオサイタマ炎上」
Dai 1-bu "Neo Saitama Enjō"
Author:
Bradley Bond and Philip Ninj@ Morzez
Original Run:
Since July 24, 2010 (Twitter, Ninja Slayer Plus)
September 29, 2012 - March 30, 2013 (Volumes)
Volumes:
4
Part 1: Neo-Saitama in Flames (第1部「ネオサイタマ炎上」, Dai 1-bu "Neo Saitama Enjō") is the first part of the Ninja Slayer series. It started on Twitter July 24, 2010 and has had new stories as recent as 2018. Collected volumes were released from September 29, 2012 to March 30, 2013
Neo-Saitama in Flames is followed up by Kyoto: Hell on Earth.
Episodes
Edit
The following is in chronological order, not release order.
Spin-Off Prequel
Edit
Need for Another Crusade
Agenda Descent
Year 1 Prologue: Seven Days of Darkness
Edit
Born in Red Black
Back in Black
Kickout the Ninja Motherfucker
Machine of Vengeance
Neo-Yakuza for Sale
Rage Against Tofu
Year 1: Dragon Dojo Attack Arc
Edit
Surprised Dojo
The Aftermath
Atrocity in Neo-Saitama City
Year 1: Ampoule Search Arc
Edit
The Fortune Teller
Bane of Serpent
Yu-Rei Dancing on the Concrete Hakaba
Kill-zone Sumotori
Day of the Lobster
Day of the Lobster 2
Apocalypse Inside Tainted Soil
Destroy the Shogi Bastard
One Minute Before the Tanuki
Zero Tolerant Sansui
Menace of Darkninja
Tyranny Within
Year 1: Yukano Pursuit Arc
Edit
Fist Filled With Regret and Ohagi
Chab-Domain Carnage
Sushi-Night at the Barricade
At the Treasonersville
Ever Felt Cheated?
Merry Christmas in Neo-Saitama
Conspiracy Upon the Broken Blade
Ogre the Cold Steel
Fuji Sun Rising
Glance of Mother-Curse
A Kind of Satsu-Batsu Night
Guided by Masashi
Ice Crash
Year 2: Zombie Ninja Arc
Edit
Deadmoon on the Red Sky
Necromantic Feedback
Year 2: Yamoto Arc
Edit
Last Girl Standing
New Messenger of What
Swan Song Sung by a Faded Crow
Treasure Every Meeting
Year 2: Eve Before the Attack Arc
Edit
Koros Oblivion
Biotech is Chupacabra
Katana Sword and Oiran Sorcery
Stranger, Stranger Than Fiction
No One There
Part 1: Final Chapter
Edit
Unknown Time
Edit
Punkichi Highway Burnout
Sunset and Heavy Rain
Pizza California
Throw a Shrimp to Catch a Sea Bream
Battle Without Honor and Sushi
Black Stripes
Community content is available under
CC-BY-SA
unless otherwise noted.