Part 2: Kyoto: Hell on Earth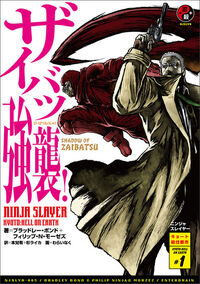 Information
Title:
第2部「キョート殺伐都市」
Dai 2-bu "Kyōto Satsubatsu Toshi"
Author:
Bradley Bond and Philip Ninj@ Morzez
Original Run:
Since June 2, 2011 (Twitter, Ninja Slayer Plus)
June 29, 2013 - January 24, 2015 (Volumes)
Volumes:
8
Part 2: Kyoto: Hell on Earth (第2部「キョート殺伐都市」, Dai 2-bu "Kyōto Satsubatsu Toshi") is the second part of the Ninja Slayer series after Neo-Saitama in Flames. It started on Twitter June 2, 2011 and has had new stories as recent as 2016. 8 collected volumes were released from June 29, 2013 to January 24, 2015.
Kyoto: Hell on Earth is followed up by Ninja Slayer Never Dies.
Episodes
Edit
The following is in chronological order, not release order.
Spin-Off Prequel
Edit
Introduction
Edit
Kickstart a New Day
Welcome to Neo-Saitama
Rise of Amakudari
Sword of the Betrayer
Day of the Lobster 3
Departure Arc
Edit
Mermaid from the Blackwater
On the Edge of the Wheel of Brutal Fate
Geisha Karate Shinkansen and Hell
Beginning of Hostilities Arc
Edit
Lonesome Pine and Two Ninjas
Rickshaw Descent Algorithm
Tubed Maguro Lifecycle
Mortal Ninja Register
Blad-Yakuza Vacant Vengeance
Gauntlet with Fury
Cry Havoc Bend the End
See No Evil Ninja
Death from Above Sekibahara
Remains Arc
Edit
Three Dirty Ninja-Bond
Return the Gift
Gauntlet with Misfortunte
Curse of Ancient Kanji, or the Secret of Darkninja Soul
At the Realm of Blackwitch
System of Habatsu Struggle
When the Sun Burns Red
Awakening in the Abyss
Revival Arc
Edit
Beyond the Fusuma of Silence
Fell Asleep in the Moving Coffin
Waiting for my Ninja
Silver Shrine like a Bullet
Reboot, Raven
Diffusion Accumulation Reborn Destruction
The Man Who Comes to Slam The Resignation
Physician, Heal Yourself
Siege to the Sleeping Beauty
Blending Arc
Edit
Bigger Cages, Longer Chains
Shadow-Con
Tobigeri Versus Amnesia
Before the Storm
Doomsday Device
Mirror Image of Destruction
Operation Rescue
Survivors Desperate Expedition
Part 2: Final Chapter
Edit
Community content is available under
CC-BY-SA
unless otherwise noted.