Part 3: Ninja Slayer Never Dies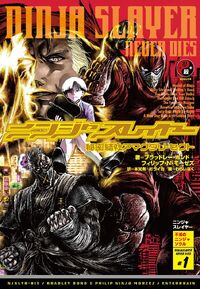 Information
Title:
第3部「不滅のニンジャソウル」
Dai 3-bu "Fumetsu no Ninja Sōru"
Author:
Bradley Bond and Philip Ninj@ Morzez
Original Run:
Since December 31, 2011 (Twitter, Ninja Slayer Plus)
April 16, 2015 - December 28, 2017 (Volumes)
Volumes:
8
Part 3: Ninja Slayer Never Dies (第3部「不滅のニンジャソウル」, Dai 3-bu "Fumetsu no Ninja Sōru") is the third part of the Ninja Slayer series after Kyoto: Hell on Earth. It started on Twitter December 31, 2011 and has had new stories as recent as 2017. 8 collected volumes were released from April 16, 2015 to December 28, 2017.
Ninja Slayer Never Dies is followed up by Age of Mappor-Calypse.
Episodes
Edit
The following is in chronological order, not release order.
Spin-Off Prequel
Edit
Year 1 (Same Year as Part 2) Edit
Who Killed Ninja Slayer?
Guilty of Being Ninja
Fast as Lightning, Cold as Winter
Battlequest: Clench your Fist
Reforging the Hatred
Satsubatsu Night by Night
New Messenger of Past and Future
Holly Stick and Sardine's Head
A New Day Born with Golden Days
Year 2 ~ Until the Attack on the Embassy
Edit
Motor-Driven Blues
Flashfight Run Kill Attack
One Girl, One Boy
Hail to the Shade of Buddha-Speed
Not the Worst Day, but at Least Cursed Anyway
Here Comes the Sun
The Drunken and Strayed
The Fantastic Morgue
Masquerade of Ninja
Killing Field Sappukei
Replica Missing Link
Soy Division
There is a Light
Midnight Blue Otonosama
Stay Alive for Your Karate
Kyoto Plotting Arc
Edit
The Black Haiku Murder
Good Times are so Hard to Find
Master of Kabuki Intrigue
Ground Zero, Death Valley of Senjin
Kyoto Castle Infiltration Arc
Edit
Zaibatsu Young Team
Among the Eight Million Stars
What a Horrible Night to Have a Karate
Under the Black Sun
A Cruel Night with Raging Force from so Silent Fearful Realm
Detective Activity Arc
Edit
Battle of the Nest
Ninja's Den
Too Far to Hear Your Haiku
Revolver and Nunchaku
Neo-Saitama City Cops
No Homer, No Survive
Blackmailed by Ninja
Ninja Salvation
Hound of Ninja
Drive for Show
Nice Cooking at the Yakuza Kitchen
Thunnus Thunderbolt
Dead Bullet Arrested Buddha
Unexpected Guest
Correspondent Series
Edit
Dark Side of the Moon
A Ninja and a Dog
Mark of the Devil
Terror from Deep Sea
Kyoto Neo-Saitama After the Outbreak of War (Before October 10)
Edit
Death Trap, Suicide Rap
Nichome War... Beginning
Into the Shattered Earth
Living Well is the Best Revenge
Senseless Acts
Oirandroid and Android
House of the Suffering
Too Late for Inga-Oho
Weird Wanderer and Wired Witch
God-Hand the Sumotori
Legacies of Megatorii
The Longest Day of the Amakudari
Edit
Raise the Flag of Hatred
Fate of the Black Lotus
Death of Achilles
Many or One
Shock to the System
Farewell to My Shadow
Nichome War
Neo-Saitama Pride
Eagle's Wings Arc
Edit
Roma Non Fuit Una Die
Alpine Sanctuary
Underworld Refuge
Through the Golden Lane
A Great Discovery of Fuckin' Serious Ninja Power
Unveil the Trail
Daydream Nation
Rise Against the Tempest
Scion of the Tyrant
Part 3: Final Chapter
Edit
Ninja Slayer: Never Dies
Unknown Time
Another Yurei by the Weeping Willow
Muse In-Out
Urban Legend Abunai
Untouched Baby and Sewer Monsters
Follow the Cold Heat Shimmers
Tower of Thieves
Spin the Black Haze
Community content is available under
CC-BY-SA
unless otherwise noted.